You need to try these gluten free blueberry scones with lemon & thyme, they are so moist and delicious!
When a scone is good, it's great; however, when a scone is bad, it's dry, it falls apart, and it almost tastes stale even when it is not! When I was creating this gluten free blueberry scone recipe, it had to be moist and full of flavors! I hit the nail on the head with this recipe. There is a hint of cinnamon, the freshness of the thyme and the lemon, and then using the buttermilk and the explosion of blueberry as they burst while the scone bakes. One of the things that I like about them, is they are not too sweet for morning, with a cup of coffee, and they are sweet and decadent for a dessert in the evening.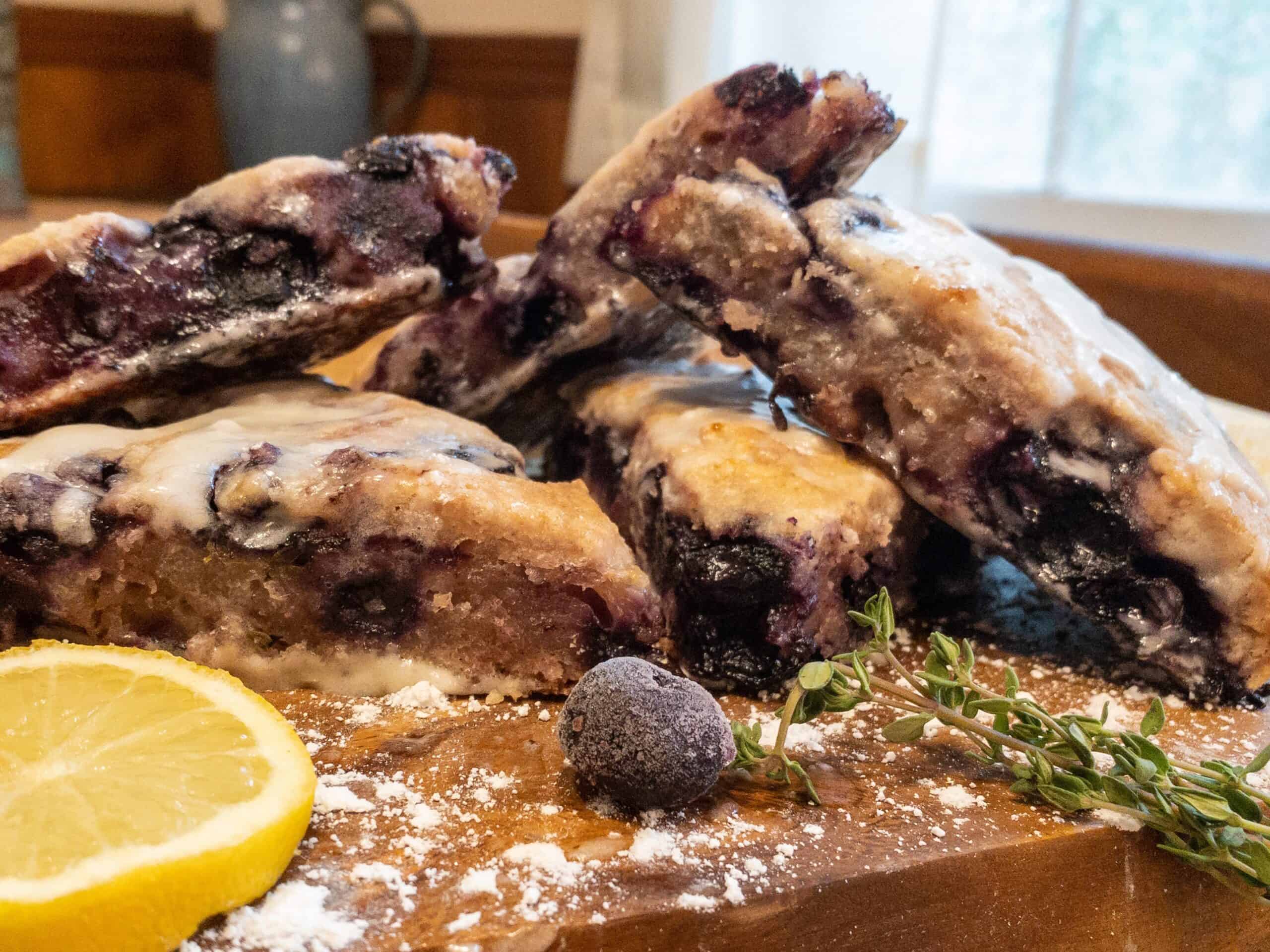 I can't wait to use this as a base to try other fruits and combinations!
Try them for yourself, and when you create them for your family, do not forget to take a picture of your gluten free blueberry scones, and add it to the comments here, as well as sharing it on your social media and tagging us on it!
Please note: 1) I use my own proprietary blend of gluten free all purpose flour blend; however, until that becomes something that I can ship directly to you, I would recommend using this product. And 2) as a new feature with my blog, the printable version of this recipe is at the bottom of this post.
Gluten Free Blueberry Scone with Lemon & Thyme
Ingredients: 
2 cups Gluten Free All Purpose Flour Blend + more for work surface and hands
1/2 cup Sugar
1/2 tsp Salt
2 1/2 tsp Baking Powder
1 tsp Xanthan Gum
1 tsp Cinnamon
1 stick Butter
1 Lemon (zest and juice)
1 tbsp Fresh Thyme
1/2 cup Buttermilk
2 large Eggs
2 tsp Vanilla
1 cup Blueberries (fresh or frozen)
3 tbsp Heavy Cream
1 tbsp Coarse Sugar (for sprinkling)
1/2 cup Confectioners Sugar
Pinch of Salt
Directions:
Place butter in freezer for about 15 minutes, while you are gathering your other ingredients.
Whisk the Gluten Free All Purpose Flour Blend, sugar, salt, baking powder, Xanthan Gum and cinnamon together. 
Grate the frozen butter using a box grater.
Add gated butter to dry ingredients, and using a pastry knife, cut the butter into the dry ingredients until flour resembles the size of peas or smaller. Place this into a freezer while you are continuing with other steps.
Wash and dry lemon. Zest the outer skin of lemon into a small bowl, being careful not to zest too far into the pith of the lemon. Also juice the lemon, (you can add this to the zest), and add the fresh thyme, and set aside. 
Whisk the buttermilk, eggs and vanilla together to make sure this is completely mixed together.
Add the lemon zest and juice, thyme and blueberries into the wet ingredients, and mix by stirring them to incorporate these into the wet ingredients.
Remove the dry ingredients from the freezer, add the wet ingredients together and mix together, but do not over mix… just mix together enough that everything is incorporated evenly. 
Sprinkle more Gluten Free All Purpose Flour Blend onto the counter and your hands.
Shape dough into a uniform 8" disk, and use a sharp knife or pastry scraper, cut dough into 8 wedges.
Place a sheet of parchment paper on a baking sheet pan, and spray with non-stick spray. Scoop up a scone with a butter knife, and place scones onto a parchment paper. Place them touching each other, and into the same circle pattern.
Place sheet pan into refrigerator for at least 15 minutes. While scones are chilling in the fridge, preheat oven to 400 degrees.
Remove scones from the fridge. Pour the heavy cream into a small bowl, and brush the outside surfaces of the scones with heavy cream, and sprinkle with coarse sugar.
Bake for  35 – 40 minutes until edges and the tops are golden brown. 
While scones are baking, mix together confectioners sugar and remaining heavy cream.
When the scones are done, remove from oven, and drizzle the confectionary sugar mixture onto the scones.