Happy National Gluten-Free Day 2022!
We here at Vee Culinary want to take a moment to honor this day… actually for two reasons!
Today is National Gluten-Free Day, and …

Today in 2017, Vee Culinary received our business license!
Was it planned?
NO, but we do think it is very auspicious!
Chef Vedam took a medical diagnosis that he was given in 2016, turned it around, and made it a positive! 
Shortly after his diagnosis, "Vedam's Gluten Free & Fabulous! Recipes From A Southern Gay Househusband," Chef Vedam's Gluten-Free Cookbook was born, and shortly after that, he started Vee Culinary LLC.  a gluten-free only personal chef and concierge catering company..
The Vee Culinary Company is a personal chef and concierge catering company that focuses on the gluten-free lifestyles of their clients. They believe food should create memories and not struggles. Their personalized prepared meals and catering services offer their clients the unique ability to live fuller easier lives without settling or missing out on the foods they love. We believe that if you choose to be gluten-free, you too should be "Gluten Free and Fabulous" ™
.

Vee Culinary may be based in the North Georgia Mountains; however, we serve anywhere within a 2-hour driving radius… from Atlanta to Asheville, NC.
Are you not in their service area? NO PROBLEM! Between the cookbook, gluten-free products, gluten-free recipes, and the online cooking classes, as well as personalized cooking classes, where Chef Vedam will be happy to travel to you, you too can be "Gluten Free and Fabulous" ™.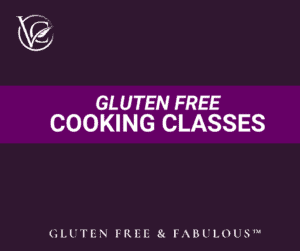 Give yourself, a friend, or a loved one a cookbook or a Vee Culinary Gift Certificate, take a class, or give them a call today, or send them an email (all which can be found on their website) www.VeeCulinary.com