In Honor of National Soup Month:
Gluten Free Cannelloni, Kale & Potato Soup
A Vegetarian Healthy & Hearty Soup!
It has been beyond cold here in the North Georgia Mountains, and I don't know about you, but here in our home, soups are as natural this time of year as grilling burgers and barbecue is in the summer. Personally, I get tired of the typical soups, so I am always looking for or creating new soups that are hearty, filling, comforting, as well as a soup that freezes well. 
Make A Huge Pot Of Soup, and Then Freeze Some
I know for me and my family the "freezes well" part of a soup is just as important to us as the other attributes of the soup. Sure, the other qualities are important, but for me, if I take the time to make a soup, I want to make a large pot of it, eat it for a few days, and then put some away in the freezer to pull out on those nights that I just don't feel like cooking, or am just too damn busy. 
For us, Vegetarian Soups Must Be Hearty!
Here is our house, we do not need meat at each meal; actually, we enjoy our vegetarian meals, and soups are no exception. There is one mandatory quality for any vegetarian meal, whether it is a soup or not; it has to be hearty and filling. When a soup is all of those qualities: delicious, healthy, hearty, high protein, filling, comforting as well as freezes beautiful, I am in! 
January of each year happens to be National Soup Month, so in honor of that, we are happy to share with you a vegetarian, delicious, healthy, hearty, high-protein, filling soup the bonus that it also freezes great. We are happy to share with you:
"Gluten Free Vegetarian Cannelloni, Kale & Potato Soup"
If you are a carnivore and want to add some type of meat to this soup, feel free! I get it! Sometimes you just feel like you want some extra meat, and we have also done it for our clients with all different types of meat. The sky's the limit! We have added anything from shredded chicken, chunks of beef, pork, and lamb. We have also added all types of ground meats.
On a side note: this soup works great as an appetizer or soup course in an elegant meal as well!
We urge you to give this recipe a try, and when you do, please send us your comments. If you added anything to it, tell us what you did. We love hearing from you, stay in touch!
I couldn't tell you exactly how many pots of this we have made for clients!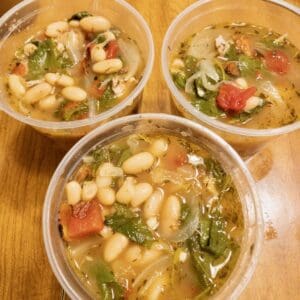 "Gluten Free Vegetarian Cannelloni, Kale & Potato Soup"
A delicious, healthy, hearty, high-protein, filling soup that happens to be vegetarian, and it freezes great.
Ingredients
6

Carrots

(medium size, peeled and diced into bite-size pieces)

1

Sweet Onion

diced

6

stalks

Celery

diced into bite-size pieces

4

large

Poatoes

peeled and cubed into bite-size piece

2

tbsp

Olive Oil

1

bunch

Fresh Kale

ribs removed and chopped

1

tbsp

Garlic

minced

4

cups

Gluten Free Vegetable Stock

1

tsp

Salt

1

tsp

Pepper

1

tsp

Dried Parsley

or 1 tbsp Fresh Parsley

1/2

tsp

Dried Rosemary

or 1/2 tbsp Fresh Rosemary

1/2

tsp

Dried Oregano

or 1/2 tbsp Fresh Oregano

2

Bay Leaves

2

14 oz. cans

Cannelloni Beans

drained and rinsed
Instructions
1) Prepare the carrots, onions, celery, and potatoes, and set them aside.

2) In a dutch oven, or Insta-pot, add olive oil and begin to sauté carrots, celery, and potatoes for 5 - 8 minutes. When the vegetables have almost cooked to your liking, add the minced garlic, and allow the garlic to bloom for a couple of minutes. (time depends on how soft you would like your vegetables, and remember, they are going to cook some more.

3) While vegetables are cooking, wash, devein and chop kale, and set aside.

4) Once vegetables are cooked, add the vegetable stock, and seasonings to the pot on medium heat. Taste and adjust spices if necessary.

5) Add the kale and cannellini beans to the soup, and cook for 30 minutes, or follow Insta-pot directions for a soup or stew.
Nutrition
Serving:
1
cup
Calories:
104
kcal
Carbohydrates:
14
g
Protein:
2
g
Fat:
5
g
Saturated Fat:
1
g
Polyunsaturated Fat:
1
g
Monounsaturated Fat:
3
g
Sodium:
475
mg
Potassium:
482
mg
Fiber:
3
g
Sugar:
6
g
Vitamin A:
12540
IU
Vitamin C:
34
mg
Calcium:
84
mg
Iron:
1
mg