I have been cooking pork chops in the oven and on the stove for decades, and I have been barbecuing pork for almost just as long. I wanted a recipe that could be prepared quickly, like when using the oven; however, I wanted a recipe that would give me the flavor of a slow roasted barbecue pork chop, like when you use the grill.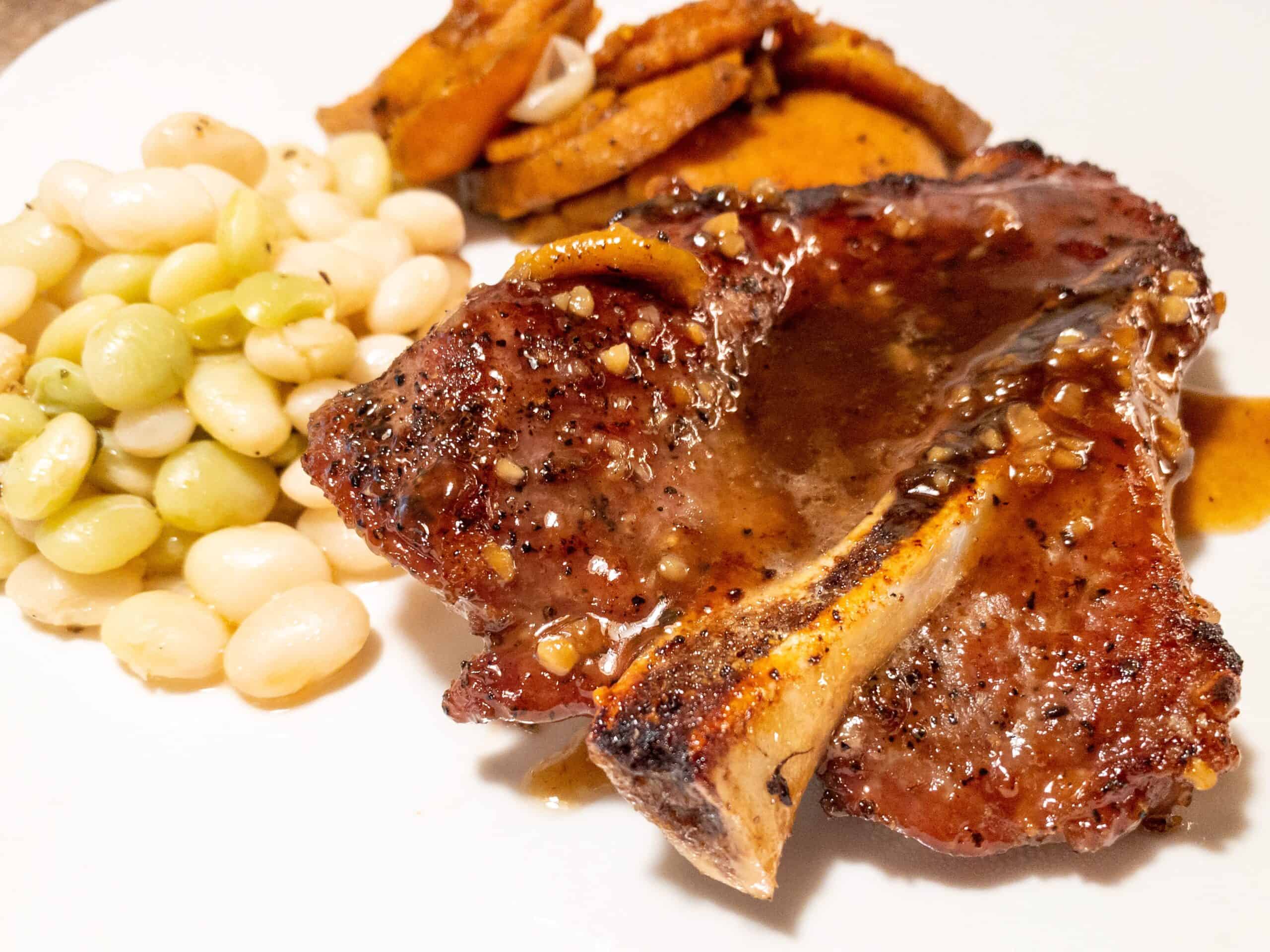 I was inspired to create a delicious version that was simple, easy and quick, and I wanted it to not taste simple, easy or quick! I knew I needed intense flavors; flavors that are rich individually, and when used collectively, they would give me a blast of flavor! 
These Gluten Free Honey Glazed Pork Chops are so flavorful, moist and delicious!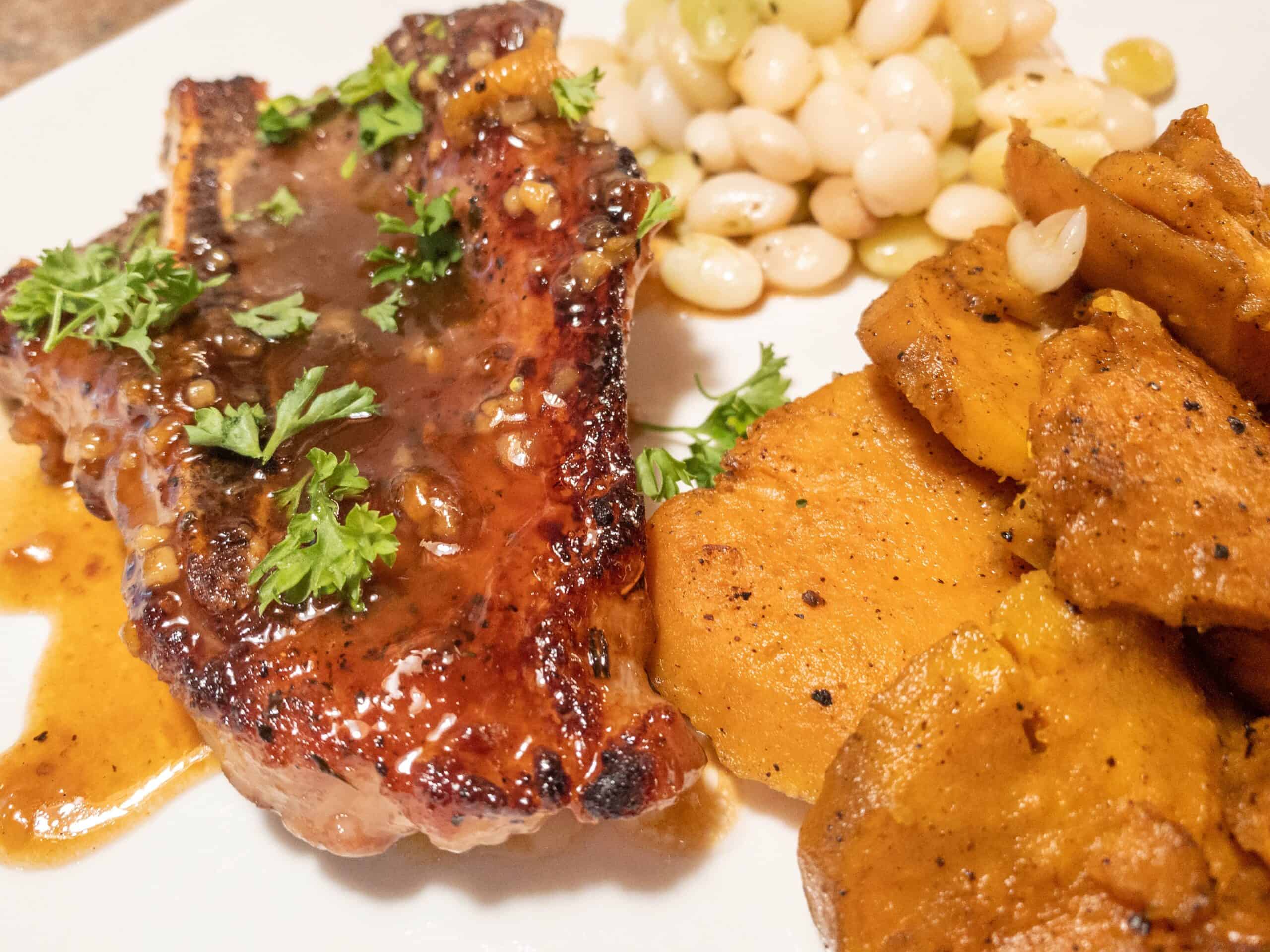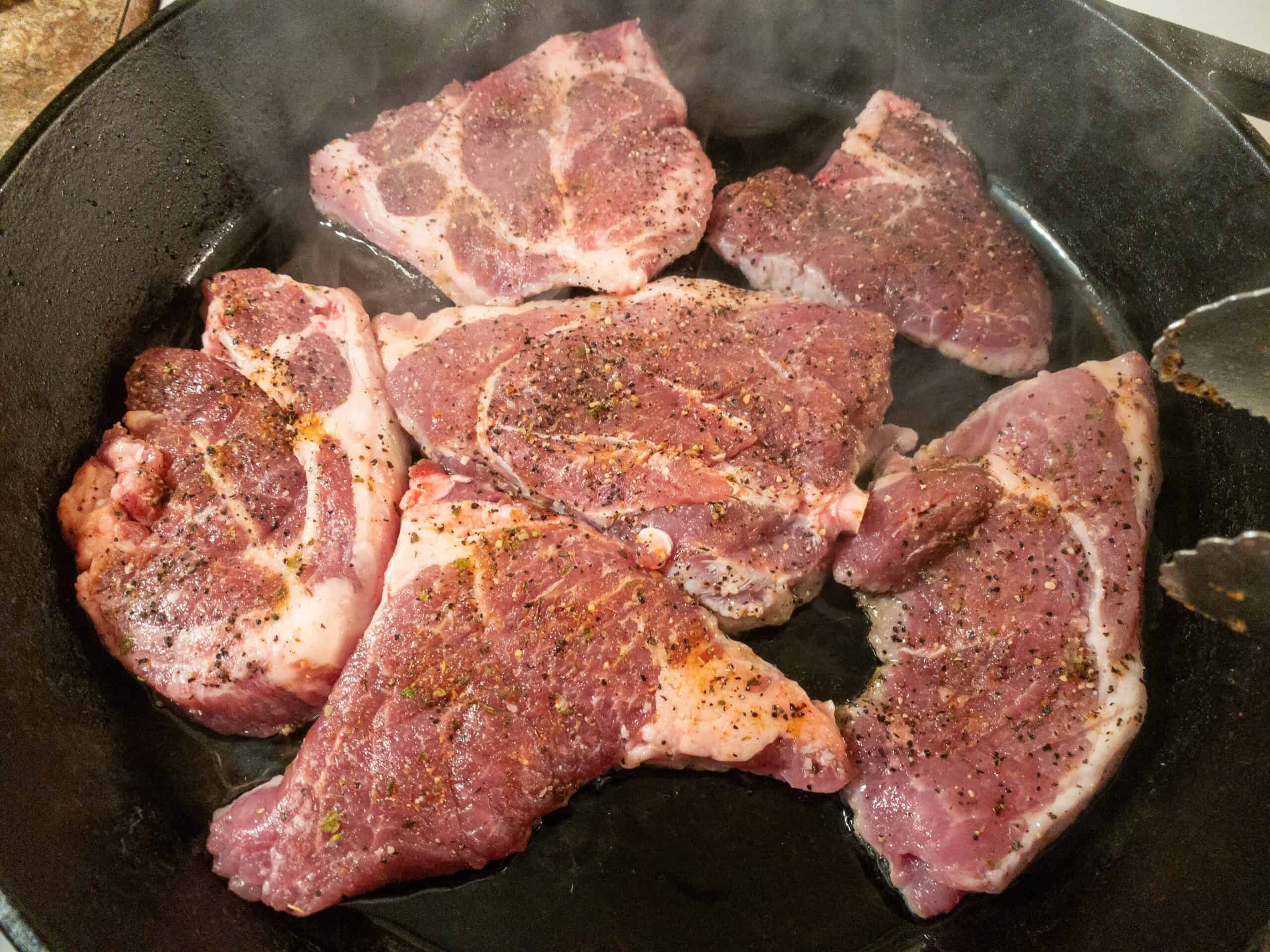 Speaking of a moist and delicious pork chop, I find that most people overcook their chops. There is a fine line between a pork chop being done, and a pork chop being overcooked, and the trick is to use a meat thermometer. Depending on the cut of pork, and your desired outcome, it can be done anywhere between 145 degrees and 165 degrees. Keep that in mind as you are cooking your pork chop. 
To get the best results, I find that it works best if I get my oven safe skillet (cast iron skillet preferred) scalding hot. When it is scalding hot, I add my oil to the skillet. Once the oil is hot, I then sear both sides of the pork chop. 
Do NOT keep turning the pork chop, let the heat and the skillet do their job. Yes, you can take a peek without flipping it.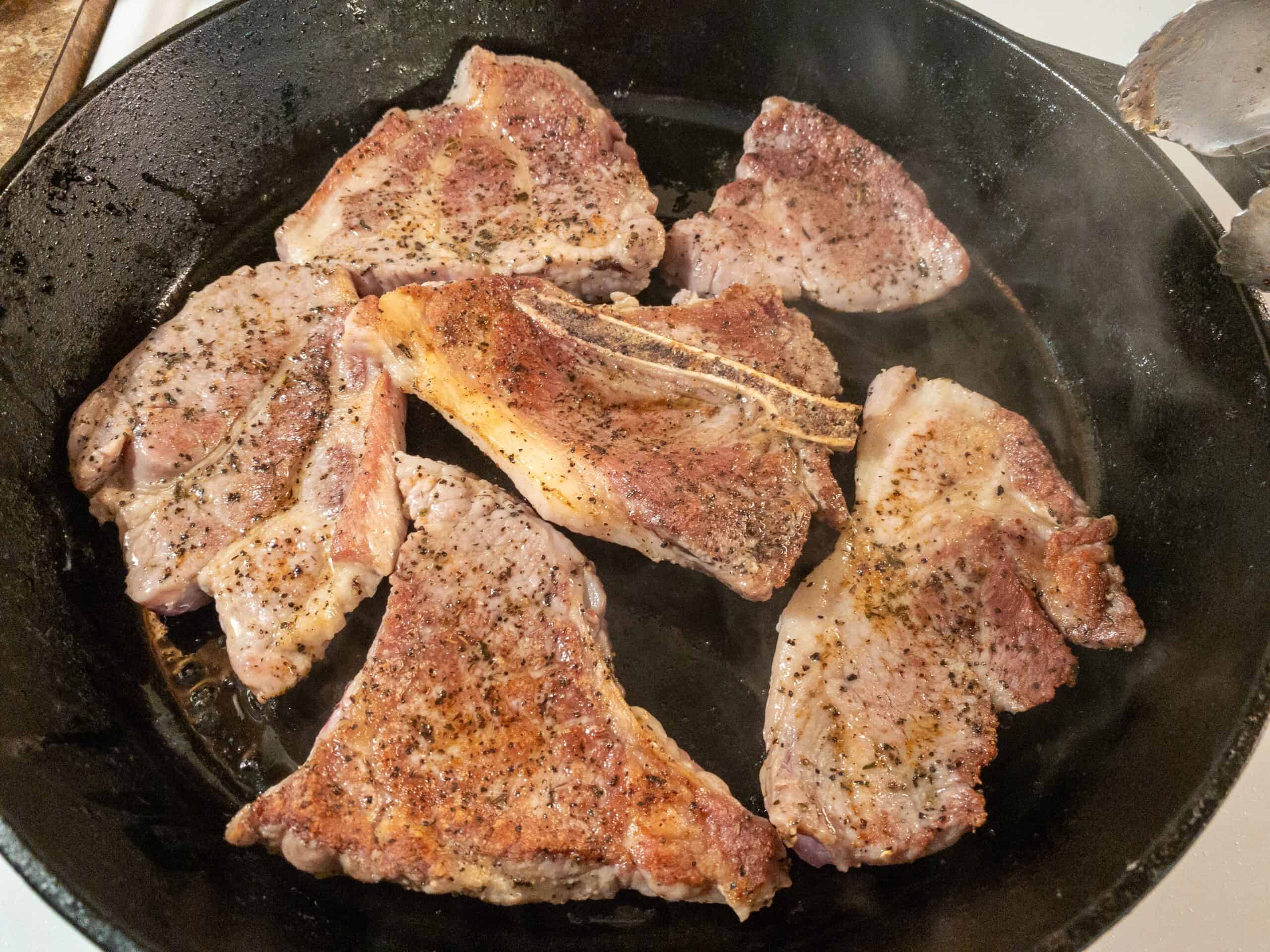 When the pork chop has been properly seared, I remove the pork chop from the skillet and begin to create my glaze in the skillet. When the glaze has been completed, I return the chop back into the pan, baste it, and place the skillet into the preheated broiler. I keep a close eye on the chop, and when the edges have begun to char, I test the internal temperature. Depending who I am cooking these pork chops for, I look for the internal temperature to be between 145 – 165 degrees. 
A Hint For The Glaze
Now, a hint pertaining to the glaze: When the ingredients are added to the skillet, they will be very liquid. Turn the heat to a medium heat, stir or whisk, and shortly the glaze will thicken. When the spatula can be scraped across the bottom of the skillet, and the bottom of the skillet is completely exposed, like a ribbon, you are good. Just pretend you are the Moses of glazes, and when you have parted the sea of glaze, everything is perfect! (there is a picture to explain this further)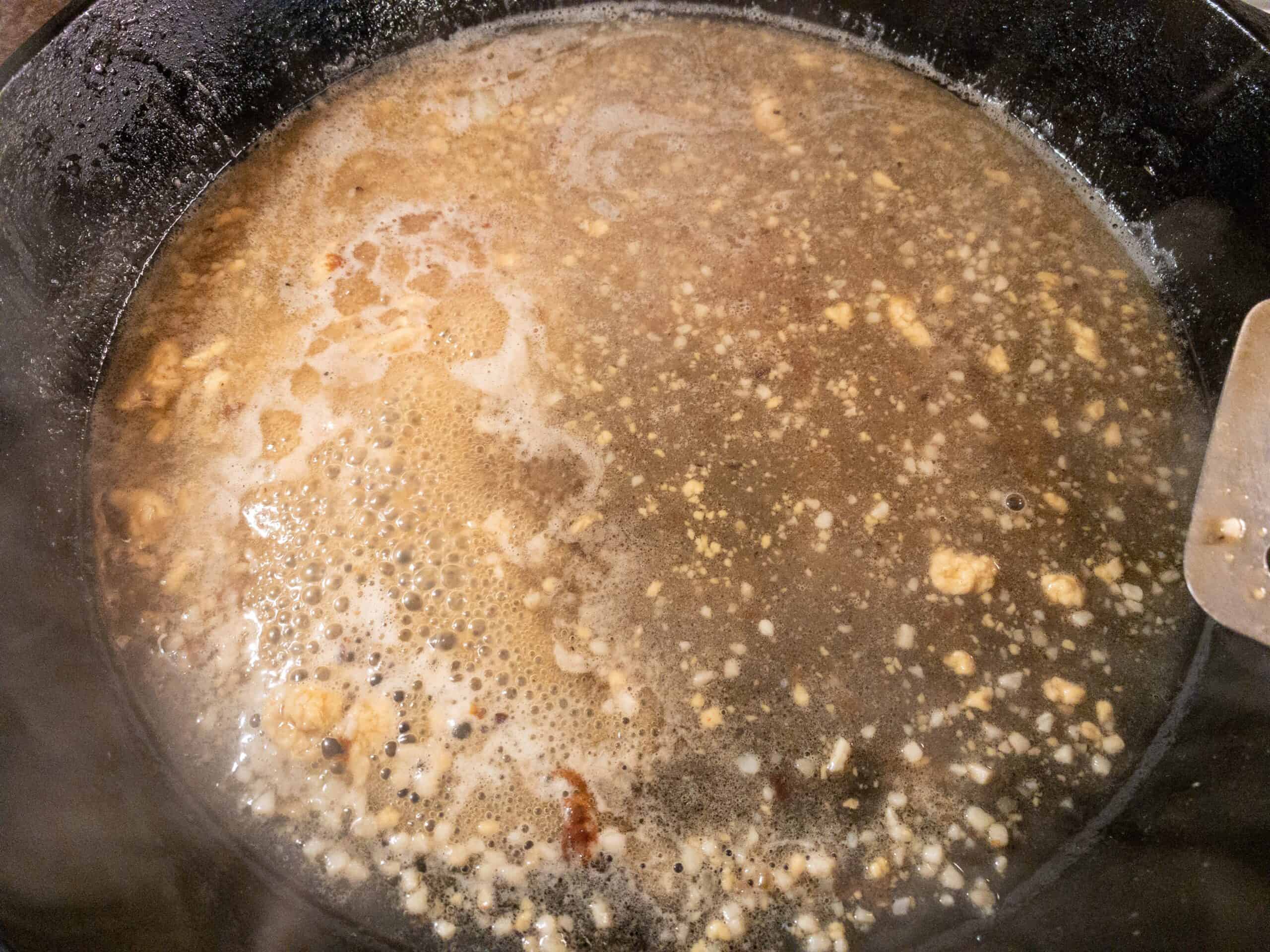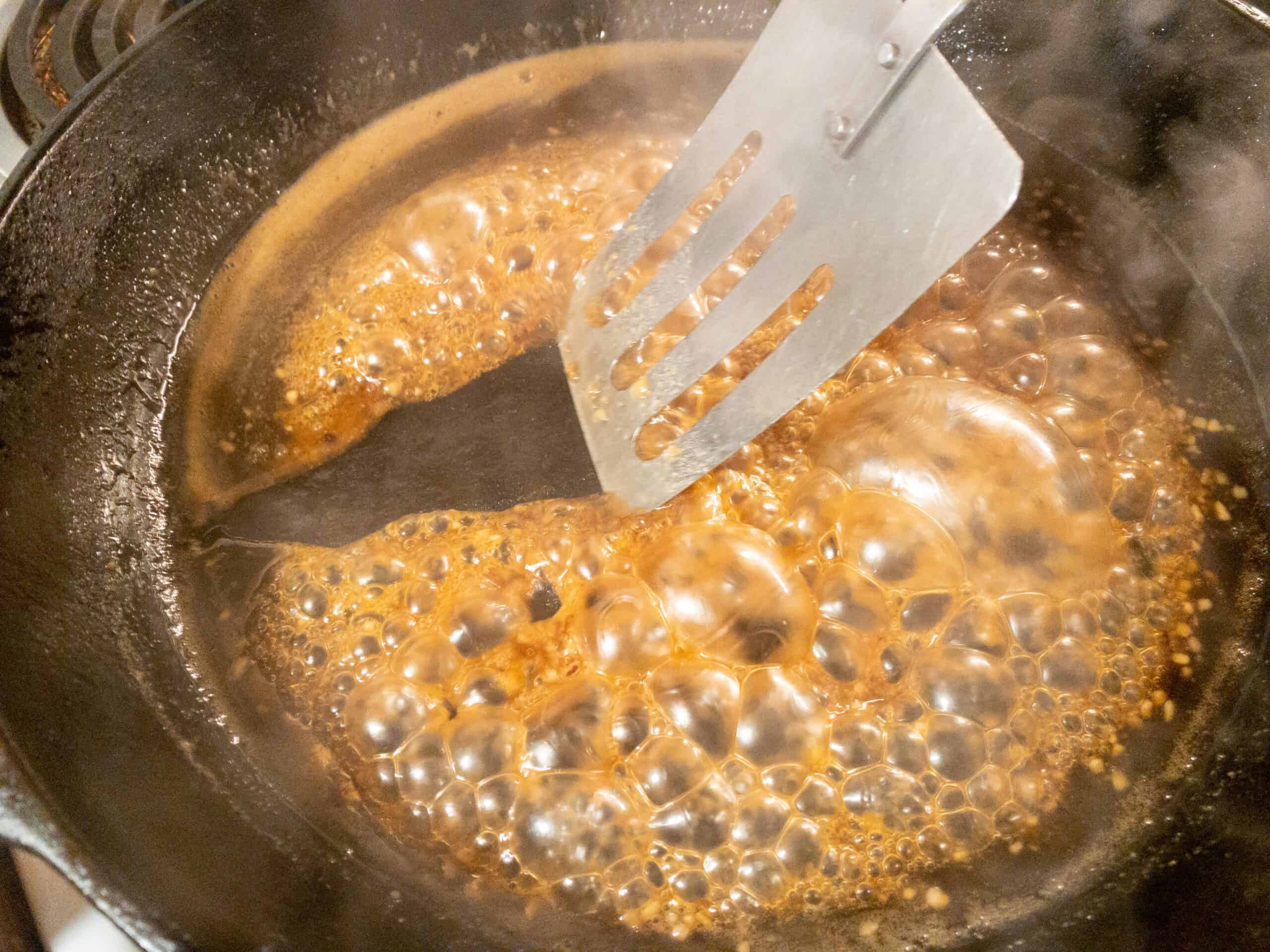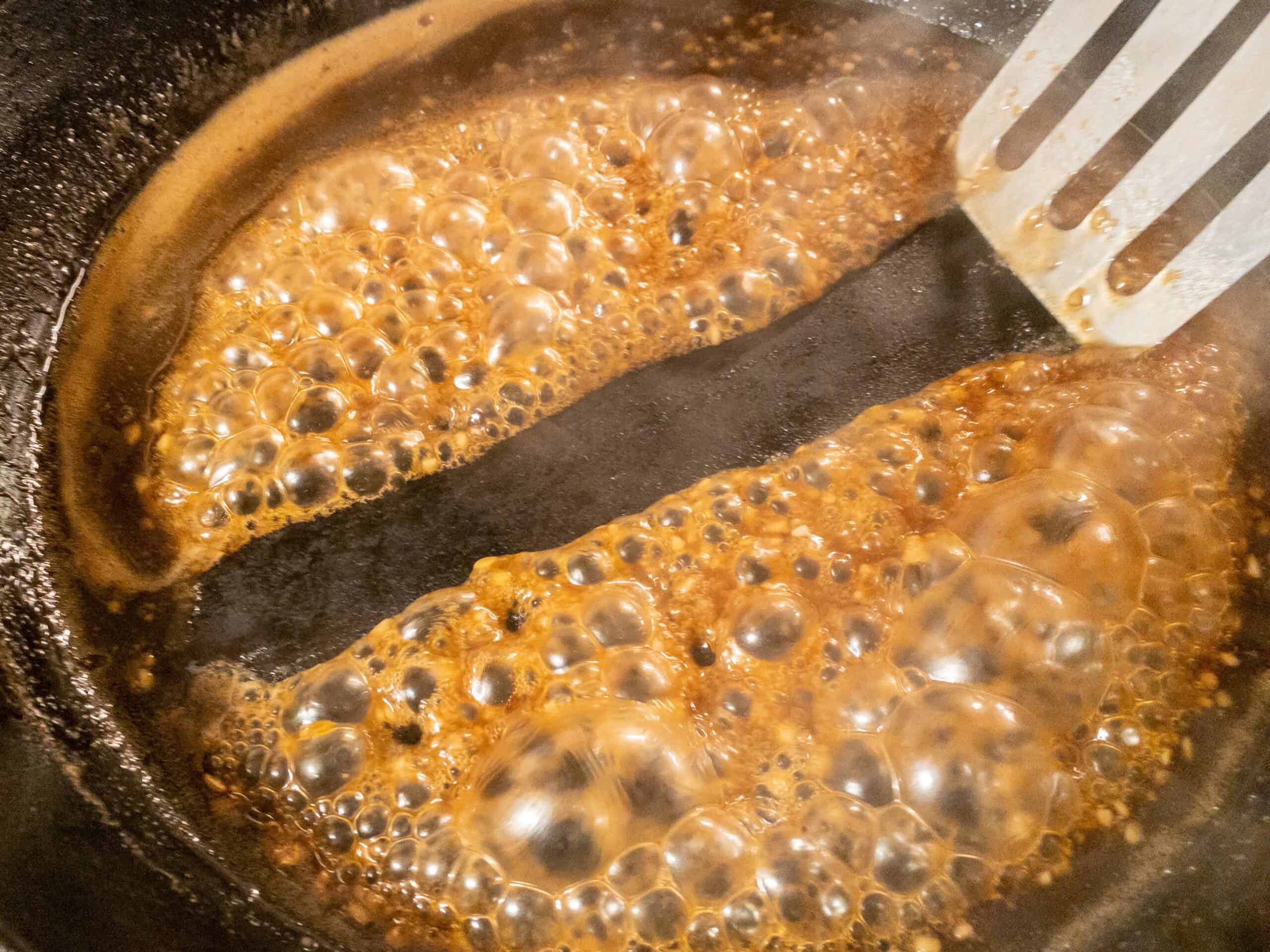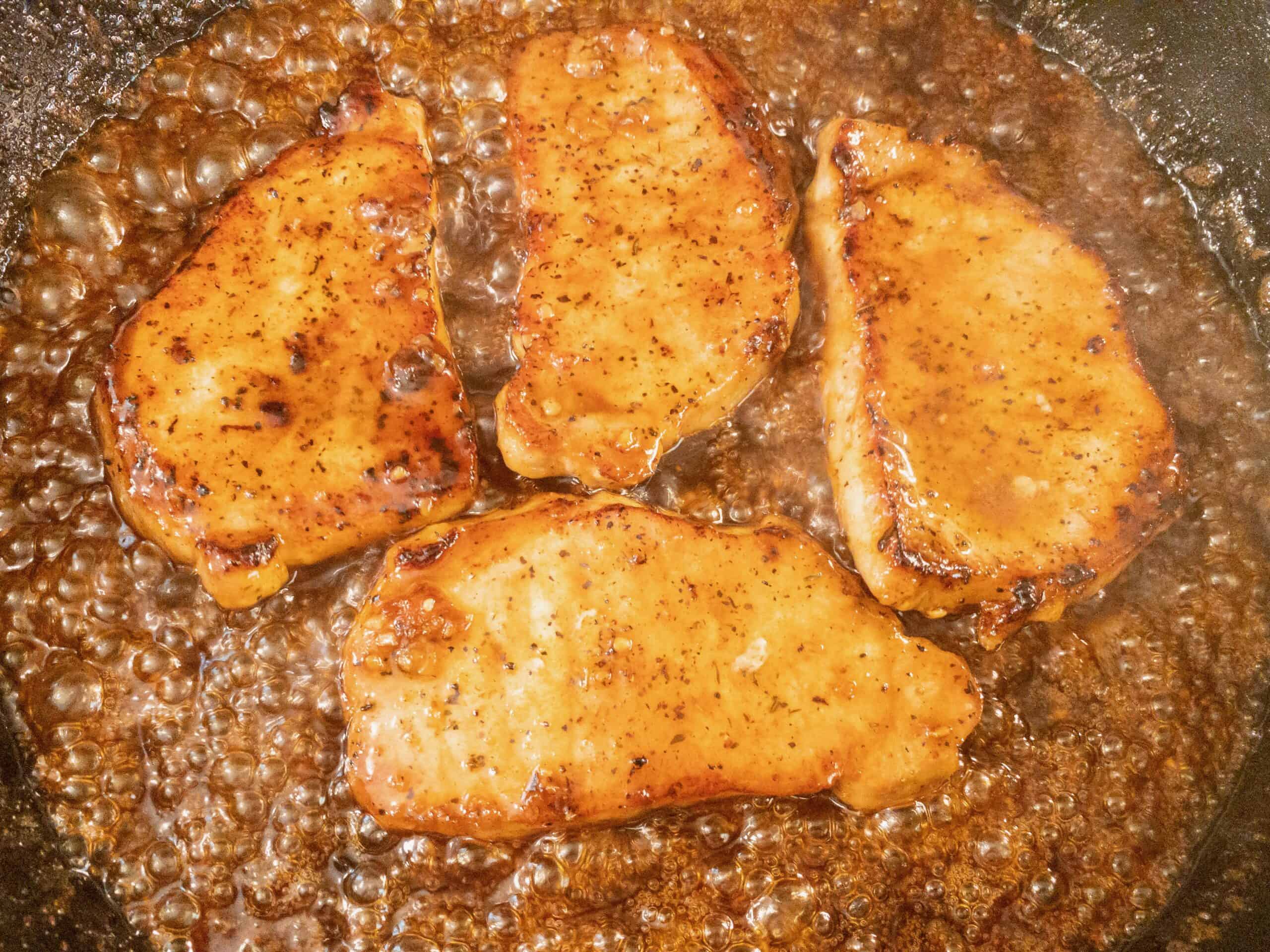 And now… the recipe…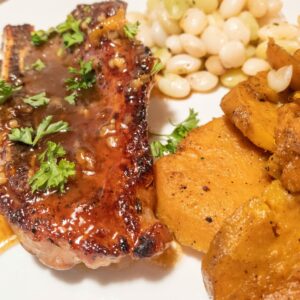 Gluten Free Honey Glazed Pork Chops
One of the most delicious and moist gluten free pork chop you ever eat!
Ingredients
4

Pork Chops

your favorite cut or pork

1

tsp

Salt

1

tsp

Pepper

1

tsp

Chef Vedam's Gluten Free All Purpose Seasoning Blend

2

tbsp

Olive Oil

2

tbsp

Butter

1

tbsp

Garlic

minced

1/2

cup

Honey

1

tbsp

Dijon Mustard

1/4

cup

Chicken Stock

2

tbsp

Rice Wine Vinegar

or any other white vinegar or white wine

1

tbsp

Fresh Parsley

for garnish
Instructions
Remove pork chops from the refrigerator 1 hour before dinner, and season both sides with the salt, pepper, and Chef Vedam's Gluten Free All Purpose Seasoning Blend, and set aside.

When ready to fry pork chops, heat oven safe skillet on medium heat, and when skillet is hot, add olive oil to skillet.

Pan sear both sides of pork chops, and when both sides are seared, remove pork chops from skillet.

Lower heat on skillet and add butter, garlic, honey, dijon mustard, chicken stock and vinegar or wine.

Scrape the bottom bits off the bottom of skillet and allow sauce to simmer, and when sauce has thickened (created the ribbon as shown in the post), add the pork chops back to skillet and baste the pork chop with the glaze. 

Place skillet into the oven and broil pork chops for a couple of minutes, or until edges have become slightly charred.

Allow chops to rest before serving, and garnish with parsley and serve.